Worst Anime of the Year 2012: Kokoro Connect

This entry was posted by brainchild.
It's bad.
Plot: D
Balloon Vine Heartseed is a stupid plant who likes to make high schoolers do some shit like body swap or read each others' thoughts. The body swapping part was fine, but every new phenomenon since has had no direction whatsoever.
Here are Orcus's thoughts:
[16:35:33] <&Orcus> The animators must have gone to the Hobbit
[16:35:43] <&Orcus> And thought "I like the way that is padded out"
[16:36:03] <&Orcus> Because they're having the SAME REDUNDANT CONVERSATION AGAIN
[16:36:51] <&Orcus> WE KNOW YOU ARE A WEAK-WILLED BITCH AND YOU'RE A STUPID PROJECTION OF MALE EMPOWERMENT FANTASY
[16:36:54] <&Orcus> STOP THIS MADNESS
[16:37:32] <&Orcus> The lowest point of this show
[16:37:41] <&Orcus> Was when they all turned into children
My thoughts?
Characterization: D
Let's explain everything a million times because the audience must be retarded as fuck if they actually enjoy this show. The characters basically take turns dictating their feelings. The thought transmission part was entirely redundant because they wear their emotions on their sleeves. There's no subtlety involved whatsoever.
Visuals: B
It looks like K-On!, and uh… yeah. The designs are fine, but there's a lot of QUALITY moments if you look at characters in the background. It's sad the best designs are reserved for background characters.
Sound: ???
I think I listened to the opening once. Don't remember anything, though.
Subs: A+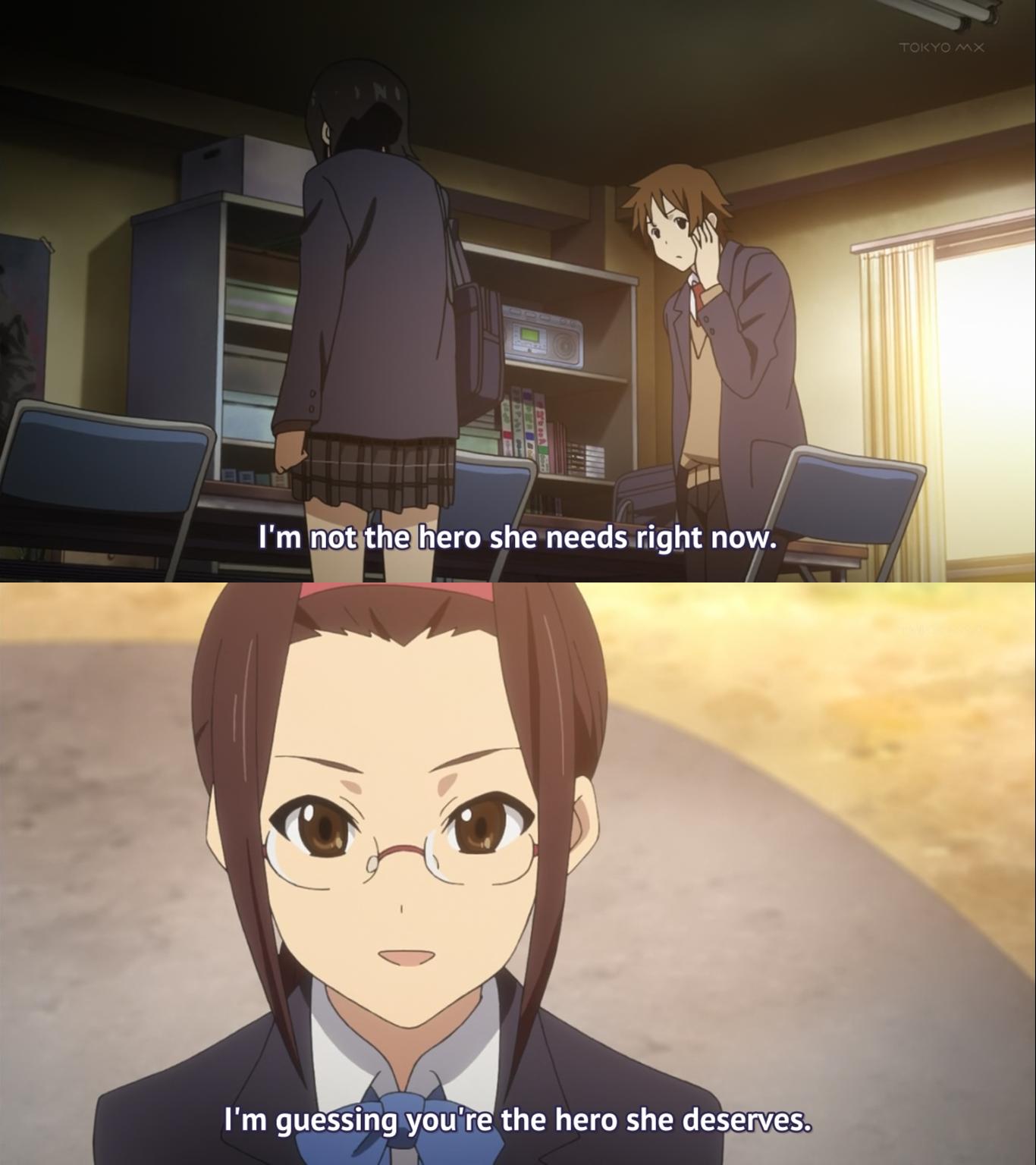 I tried my best, Commie faithful, but I failed. Can you blame me though? There's no way I could save this show. If you unironically watched rori, I don't hate you. I just pity you for having such shit taste.
Overall: F for FUCK THIS SHOW. SHURAKYO, HURRY UP WITH 16-17 SO ORCUS AND I CAN BE FREE OF THIS SHOW.
Other contenders were Accel World and Hyouka.